Serving Tampa Bay since 2001
Tampa Bay Ponds & Rocks is Family-Owned and Proudly Provides Rock and Pond Services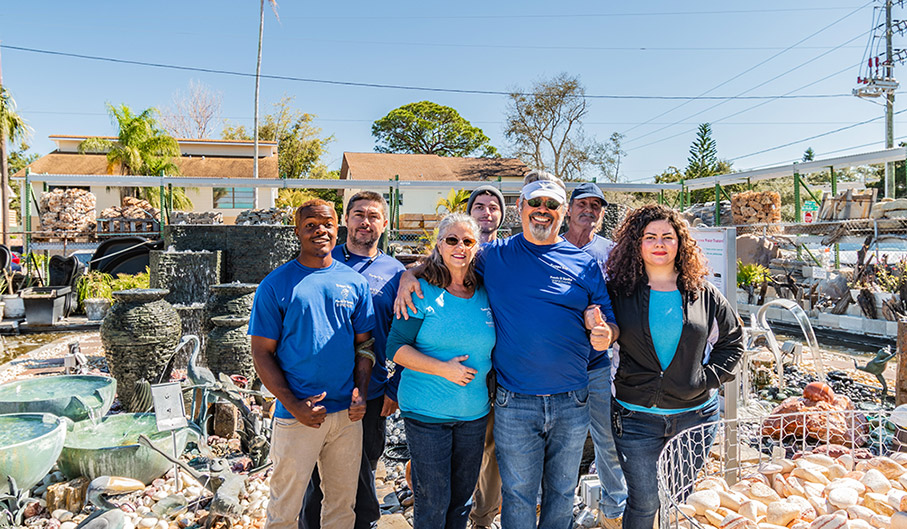 People fall in love with our pond store as soon as they step out of their car. Some people drive over 150 miles to come to our store! Our pond store is surrounded by breathtaking landscaping which feature 9 beautiful natural looking ponds with waterfalls, misters, aquatic plants, turtles, koi and goldfish."
Tampa Bay Ponds & Rocks has been in business since January 2001. We are located five minutes from the beach in the beautiful city of Dunedin, Florida. We are now delighted to serve all of central Florida.
People fall in love with our pond store as soon as they step out of their car. Some people drive over 150 miles to come to our store! Our pond store is surrounded by breathtaking landscaping, which features nine beautiful natural-looking ponds with waterfalls, misters, aquatic plants, turtles, koi and goldfish. We proudly claim that it is the most amazing pond and rocks store in Tampa Bay!
As owners of Tampa Bay Ponds & Rocks, George & Melody Ruiz enjoy the beauty of nature, water and landscaping. Our admiration for nature is beautifully reflected in our store.
"Roi the Koi" is the newest member of the family, and you can see him in TV commercials, singing and shaking his booty. Roi is our company mascot and you'll find him in our logo and all over the store.
We have a large selection of aquatic plants including water lilies, taros, duckweed, cattail, rush and papyrus. We also have self-contained waterfall fountain units. We carry everything you need to build, repair and maintain your pond, such as pond kits, pond pumps, pond filters and so much more.
Visit Tampa Bay Ponds and Rocks. Our Showroom will take your breath away!