Serving Tampa Bay since 2001
Pond Kits and Supplies for All Your Pond Needs. Proudly Serving the Tampa Bay area based in Dunedin.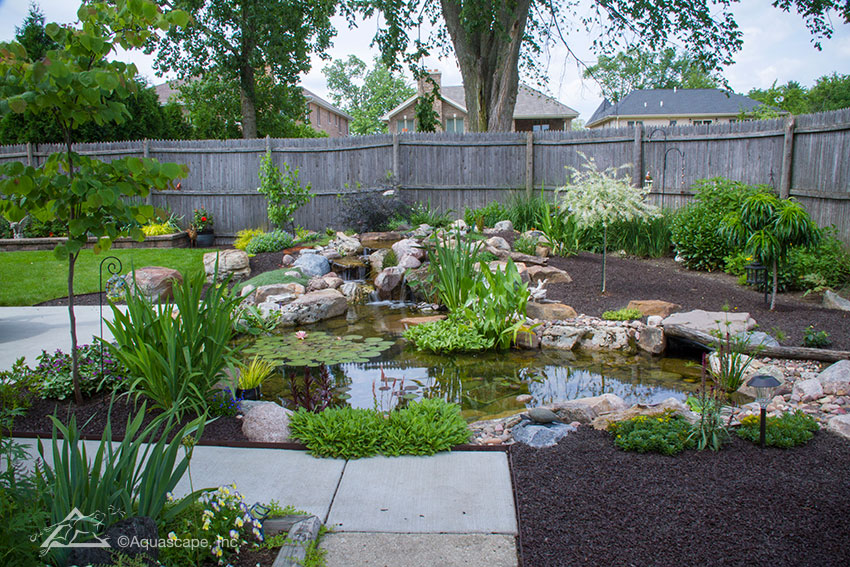 If you want to experience the soothing tranquility of waterfalls, the best option is water fountains. The gurgling sound of water fountains can soothe your frayed nerves and will give you a break from your monotonous life. Moreover, it can help you focus your mind.
A water fountain is surely a décor focus if it suits your pocket. A walk near a water fountain can jazz up your spirits and make you feel fresh from within. Their uniqueness ranges from monumental to subtle, functional to decorative and futuristic to natural. Most fountains are a blend of these features.
Pond Supplies Like Water Fountains
The Japanese have a deep understanding of how important water elements are because they mingle it so magically with the tranquility of their beautiful and composed gardens. They immediately bring to mind the art of Feng Shui. Water fountains are related to water elements of Feng Shui as they are a symbol of a free flow of energy. Running water makes a gentle, tinkling jingle that suggests deep forest pools of mirror-like surfaces surrounded by nature. Water fountains are magnificent and bring out a completely new ambiance.
You can have water fountains in any shape, size, color and style. The types of fountains available on the market are almost endless and include every material and design imaginable. Materials like fiberglass, porcelain, concrete and even copper serve as the raw material for fountains. We offer a wide variety of water fountains such as:
25″ dia. x 15″ H 99385 Bamboo Bowl Container Water Garden
99387 Bucket & Rocks Container Water Garden
99389 2 Tier Corner Barrel Kit
Tampa Bay Ponds & Rocks Carries Pond Kits
Do-it-yourselfers finally have an option for a top quality, introductory pond system. People are amazed that they can actually get a larger pond using a MicroPond® Kit for less money than piecing together individual components like pumps, filters and accessories.
Every product comes from the same manufacturer, meaning you don't have to be worried about whether certain components are compatible. They are made to fit together, which makes your job a little easier. Plus, MicroPond® Kits come in the perfect sizes for your pond:
Aquascape Pond Kits® come in the following sizes. The liner included with all kits will build a pond 2′ depth max.
Pondless Waterfall
For ease of use, upgrade to the Signature Series™ Pondless® Waterfall Kit. Create up to a 16-foot meandering stream and cascading waterfall. Signature Series™ Biofalls® Vault is the easiest filter to disguise. Complete lighting systems. Large 2″ diameter pipe provides maximum water flow. Easy to camouflage.
Signature Series™ BIOFALLS® 2500 Vault
MicroSnorkel™ Vault
MicroCentipede™ Module
Aquascape 3000 gph Pump
2″ Dual Union Check Valve
25′ Roll of 2″ Flex PVC Pipe
Installation Kit
60 Watt Transformer
3 Waterfall Lights
9 oz. EcoBlast™
10′ x 20′ Stream Liner
10′ x 12′ Basin Liner
100 sq. ft. Underlayment
Mini Pond
EPDM Liner, Liner Patch and Underlayment
Standard Skimmer
Mini BIOFALLS® Filter
1500 or 3000 Gallon Per Hour Pump
25 ft. of 1 1/2 Inch PVC Pipe
Check Valve Assembly
Silicone Sealant
PVC Glue & Primer
Black Waterfall Foam
Underwater Light & Transformer
AquaClearerTM Bacteria
"How-To" & "Owners Video Manual DVD"
Plumbing- Fittings, Hose & Installation
We carry a large variety of plumbing supplies such as fittings, hose, and installation tools. Fittings are available in slip, barb & threaded varieties and include adapters, bulk heads, Tee's, Y splitters, menders, diverters, flow-control valves, nipples, reducers, check valves, ball valves, Hudson valves, auto-fill valves and more!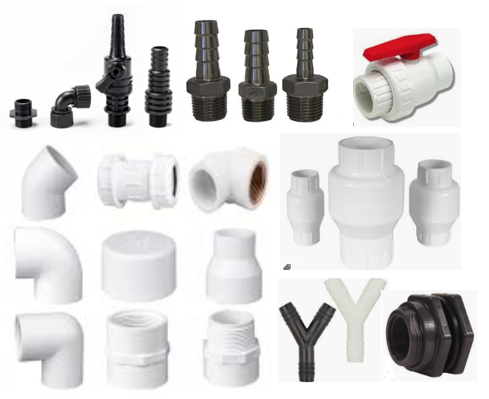 We carry PVC Flex Hose, Kink-free ribbed hose and BVT in sizes ranging from ¼"-3" inside diameters.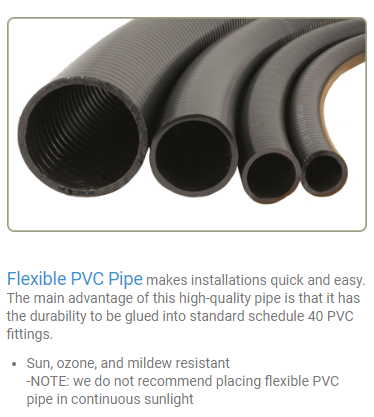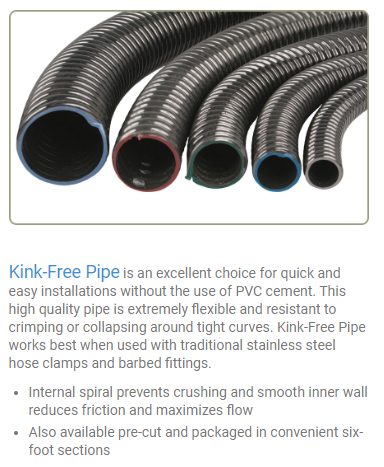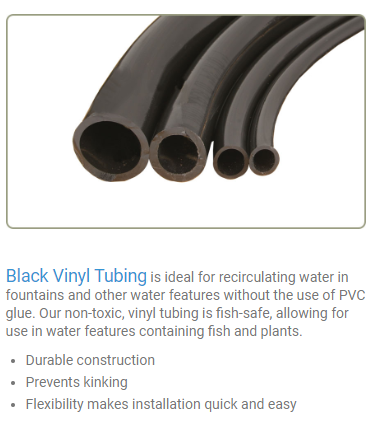 Installation tools include waterfall foam, applicator guns, silicone, PVC glue, primer, liner tape and more.