Landscaping rocks bring beauty to backyard ponds and come in a stunning variety of shapes, sizes, and colors. From attracting wildlife to adding pizzazz to your pond, how do you choose the best landscape rocks for your backyard pond or outdoor space?
Choosing Landscape Rocks for a Backyard Pond
Any rocks can look lovely in a backyard pond. While you can achieve different styles depending upon the shapes and colors you choose, the main purpose of landscape rocks is to provide beauty.
For the pond enthusiast, landscape rocks should be at the top of the list as they not only come in a variety of shapes and sizes but also many beautiful colors and textures to help brighten up the landscape.
Be sure to note the depth of your pond and whether you have room to add a layer of rocks on top. Choose rocks that are large enough to support themselves and hold each other up, but don't be afraid to add some smaller, decorative pieces around them.
With these general tips on choosing landscape rocks, let's talk about some of the best types of rocks to use in your yard or pond.
Limestone
 Limestone is a sedimentary rock made from calcite, which forms slowly over time as layers upon layers of sandstone are pressed together. This rock is popular extensively in landscaping, whether it's for a walkway, steps, or even as an island. This type of rock is also ideal for a pond bed, and it's great to place in a backyard foundation for water features.
Limestone is one of the best rocks for backyard ponds because they are dense and sturdy, making them less prone to crumbling into the water. Limestone landscape rocks are a really fun decorating choice because they come in a variety of beautiful hues such as light brown, dark brown, red, and grey- though be aware that the color may change over time from exposure to the elements. You can also find limestone with fossils, which makes a great conversation piece.
River Rock
Why should you choose river rocks as landscaping rocks? River rock is a type of rock that has been formed from consolidated gravels and is one of the most commonly used garden stones for landscaping. It consists of round pebbles that are typically similar in size. They are usually brown so they match with most other types of stone in landscaping.
River rocks are often used as a decorative accessory to garden walls and walkways. Another use of river rocks is to make waterfalls, especially in garden ponds. They can also provide drainage in a potted plant.
River rock is very easy to install, cost effective, and are suitable for gardeners of all skill levels. However, river rocks do require maintenance such as rinsing with fresh water and reapplication of sealant.
Beach Pebbles
The beautiful color and texture of beach pebbles can bring something special to your landscaping. These pebbles are inexpensive and come in different shapes and sizes- some of them even sparkle under the sun! Choose the ones that you like and give your home a beautiful and unique look.
Beach pebbles have a variety of usage options. They could be placed as a border or scattered along a path, etc. They can be used as decorative mulch, and are great for outdoor paths and walkways but not in areas that receive too much pedestrian traffic. You can also use them for patios and pools.
They are easy to maintain, low-maintenance, and will last for many years. They can also be used in conjunction with other stones, like river rock, for a unique and dynamic look.
Lava
Lava is another popular landscaping stone. It has a smooth texture and comes in a variety of amazing colors. Lava is resistant to many physical forces such as water and wind erosion, making it a very durable stone. It is even used in construction materials because of its ability to withstand fire.
Lava stones are typically used for pathways because the rough texture allows for easy cutting and they hold dirt in between their crevasses. They also make for great decorative features for a yard or garden. Both black and grey lava are common and they come in a variety of sizes.
Lava landscaping stones are bold and unbeatable. This is a must-have stone for your backyard landscaping.
Polished Pebbles
Polished pebbles provide the perfect finishing touch to your outdoor space and are one of the most versatile landscaping rocks available.
These popular pebbles come in a multitude of sizes, shapes, and colors, giving you an almost unlimited variety of possibilities. Plus, they're lightweight, allowing you to take advantage of vertical areas.
These landscaping rocks can create the illusion of a large luxurious yard or a more intricate and beautiful patio. They can provide a feeling of tranquility or excitement, whichever you're looking for in your space.
The possibilities are endless when it comes to these decorative pebbles. No matter what you're looking to do with your space, polished pebbles can help you get the look you want.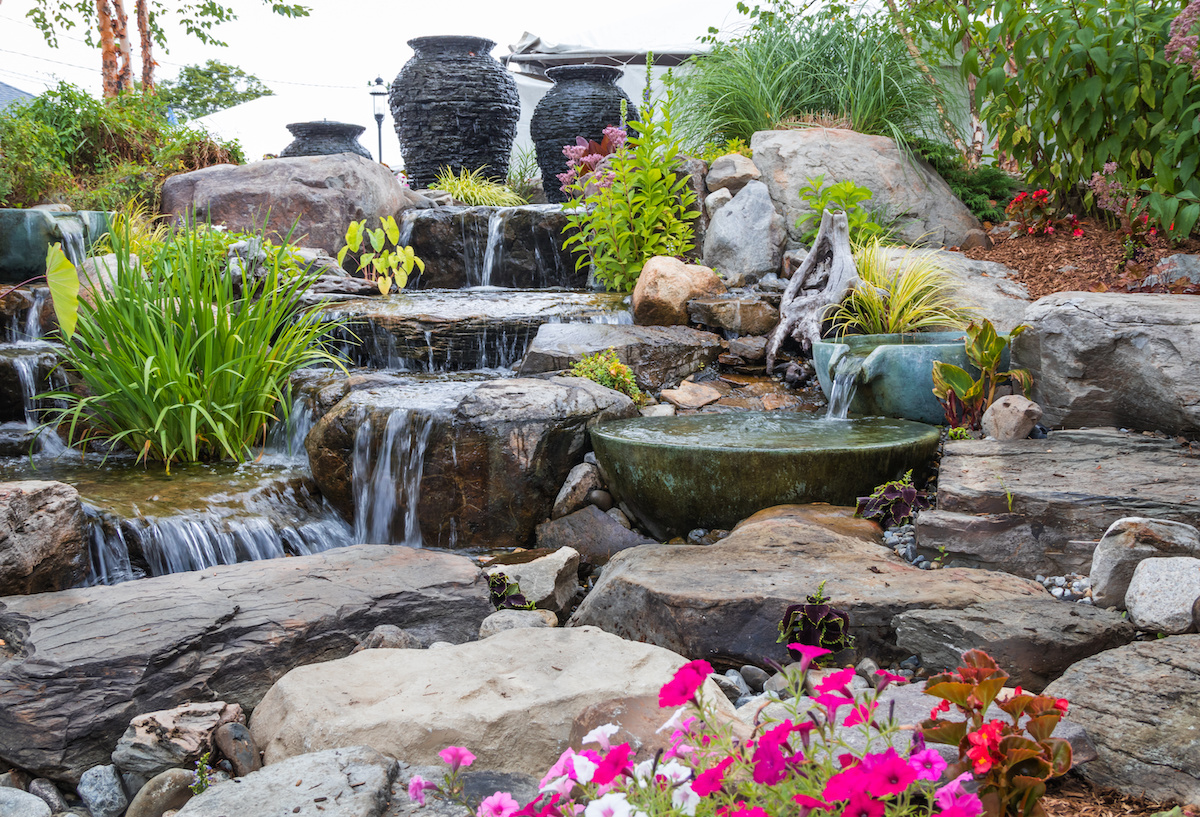 How to Use Landscaping Rocks
You've seen a variety of beautiful landscaping stones, but how do you use them for your backyard? Below, we'll show you some of the most popular ideas.
Create the Perfect Pathway
Landscape rocks can be used as a pathway or a decorative border around the pond. While not all rocks are natural, they can still create a natural look for your pond. Rocks can be used as a platform for a waterfall or a place to rest your chair. Landscape rocks add a unique touch of beauty to your backyard pond.
When you have a vision for your garden, it helps to work with a skilled team of landscape rock experts to build something that blends seamlessly into your landscape. Frame your backyard with plants to create a lush haven for family and friends. Choose from suggested landscape
A wide variety of beautiful landscape rocks can be purchased here at Tampa Bay Ponds & Rocks. Let us help you choose the perfect pieces to create your dream backyard retreat.
Building a Custom Landscape with Landscape Rocks
Building an outdoor water feature is a great way to create an oasis in your own backyard. With materials you probably already have on hand, it's easy to create a beautiful pond with your landscape rocks.
Landscape Rock Walls
You can easily build a beautiful rock wall for your yard, just level the ground and mark your design. There are many different styles for rock walls, allowing you to create a unique focal point in your yard.
Pineapple Rock Garden
If you want something unique and beautiful, try a pineapple rock garden. It consists of many sizes and styles of plants each in its own pot. The plants are placed in a pattern to resemble a small pineapple, with landscaping rocks scattered around for the perfect finishing touch.
This type of garden is perfect for people who want to display all of their favorite plants from small to large. It gives a tropical feel to your gardens even if you don't have a lot of space to work with. You can also incorporate a variety of landscaping rocks for a special touch.
Transporting Rocks and Rocks for Ponds
Once you browse through Tampa Ponds & Rocks we're sure you'll find the perfect landscaping rocks for your space- but how will you get your new rocks home? Here are a few tips for transporting your rocks easily and efficiently.
If you are going to be using a truck, make sure that it has a ramp. There should also be a place to store the rocks where they will be easily accessible. It is also important to consider the width of the vehicle. You need to have a truck that can fit through a typical residential or commercial driveway. This means having a truck that is less than ten feet in width.
When you are driving a car, consider the trunk space that you have available. For large landscaping projects, you might consider renting a trailer or a small truck with an open bed.
Get Help Choosing Pond Rocks with Tampa Ponds & Rocks
As you can see, a lot of thought goes into choosing pond rocks ranging from the type of rock to its transportation. At Tampa Ponds & Rocks we're the local experts at choosing landscaping rocks for yards of all shapes and sizes. Stop by our store to browse or call us today for more information.