Creating a coastal oasis with seashells is an excellent way to add natural beauty and drama to your landscape design. In addition, it's also a great way to hide or camouflage less-than-ideal features such as plain pathways or unappealing flowerbeds. If your home sits on a waterfront property or you just want to bring the beach to your yard, landscaping seashells can create the look of a coastal oasis in your landscape. Read on for some easy tips for using these small but mighty natural elements in your yard.
Plan Your Design with Landscape Seashells
When you decide to use seashells in your landscape, the first step is planning. You also need to decide where you will place the shells in your landscaping.
From there, you have several great options you can choose from, such as:
You can scatter them throughout the landscape, or you can create a more intricate pattern with them.
If you decide to create a more formal landscape design, you can use seashells to frame pathways or walkways by placing them on either side of the path.
You can also use them to create an interesting border around planters or shrub beds.
If you want to use them to cover an area of ground, you can create a path out of seashells and then spread the rest of the ground with mulch.
Use Seashells in a Water Feature
If you want to add a touch of whimsy to your seashell-themed landscape, consider adding seashells to your water feature. You can add a small collection of shells to a fountain or other water feature to create a magical seashell garden.
When you're building a new water feature, you can incorporate shells into the design by using them as aquatic plant containers. You can also place a single seashell in the center of the fountain. Meanwhile, landscaping shells as an alternative to decorative stones in water features.
Create a Path of Seashells on Patios, Courtyards, or Driveways
One way to bring the beauty of the beach indoors is to create a path of seashells on your patio, courtyard, or driveway. You can simply scatter shells along the path, or you can create a more formal design by placing them in small bowls.
You can also use a mixture of shells and sand to create a path on your patio. Simply rake the sand into a pattern and place a handful of shells in the sand.
What are the Benefits of Using Seashells for Landscaping?
Seashells offer many benefits to homeowners who use them in their landscaping projects. They help to cultivate a peaceful and serene environment through their natural charm and beauty.
Furthermore, shells can also be used as natural mulch. This excellent solution for homeowners who want to add that natural look to their landscape, but don't want to use synthetic or chemical-based mulch.
Additionally, seashells are an excellent decorative and functional element for coastal-themed landscapes. You'll find them here on the coastlines of Florida in varying sizes, shapes, and colors.
Seashells also have a long history in human culture, having been used for decoration in homes and other buildings since ancient times. It's a beautiful way to add allure to your landscaping.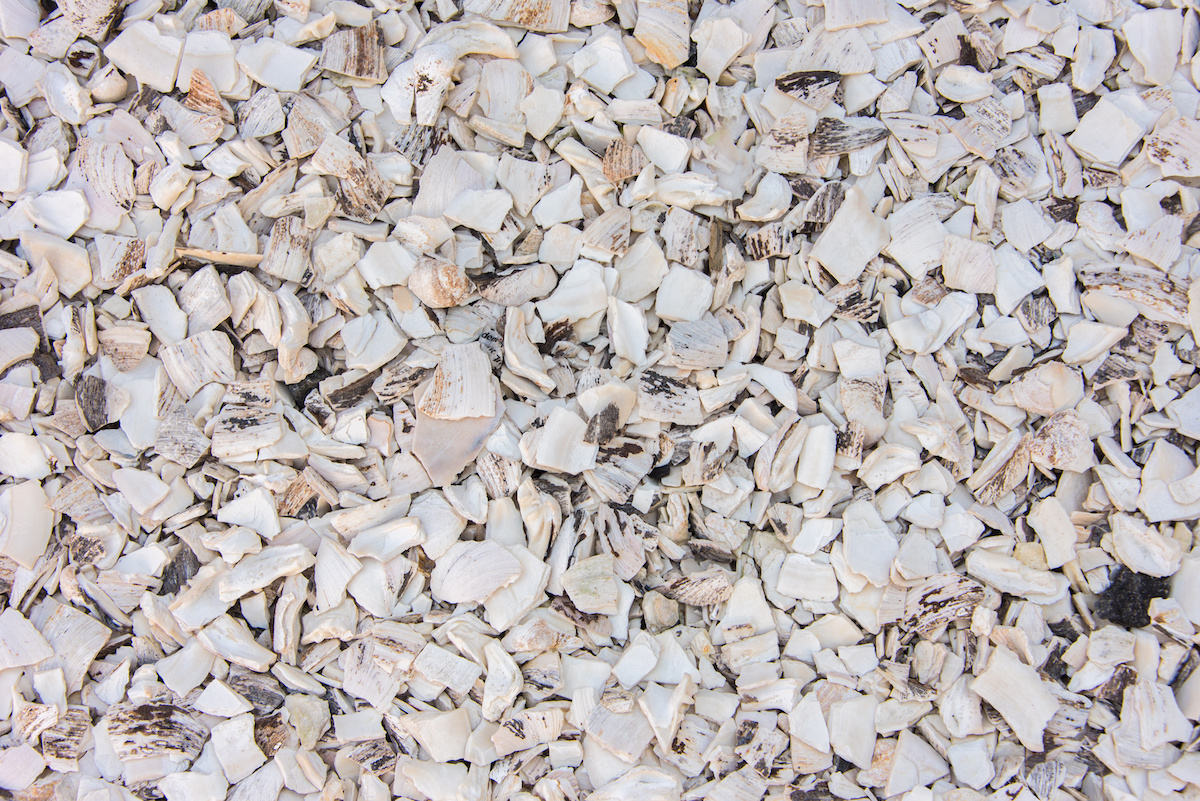 Can Seashells Improve Your Yard's Soil?
Did you know that seashells can improve the soil by providing nutrients? They can be broken up and added to soil to improve its structure.
When planting in soil that is rich with seashells, your plants can enjoy additional healthy minerals. If you are planting in poor soil, you can mix seashells into the soil to help with the needed nutrients. This is because the shells raise pH levels of the soil which can replace liming. If your soil is acidic, but it might make the pH levels too high in alkaline soil.
When used as a seedbed, a few inches of seashells can provide the needed nutrients to the soil. You should seed your soil with something that will grow best in the conditions that are available.
What to Consider When You Choose to Landscape with Seashells
When choosing seashells to landscape with, you'll want to make sure that you're getting the best quality and safest option for your needs. Seashells can be good for your garden's soil, they can be great for a décor piece. Not to mention, they can also be fun to collect. Depending on the type of seashells you choose to landscape with, there are a few things to keep in mind.
Seashells that are dry and cracked can be dangerous for children and animals to touch, as they are very sharp.
Some seashells are bleached white may have been treated with chemicals to achieve that color. There is nothing wrong with that, but if you are concerned about the safety of chemicals, look for seashells that are naturally white.
Unfortunately, seashells that are still wet and slippery can cause falls and injuries. This is one of the disadvantages of choosing seashells for landscaping. However, the advantages nearly always outweigh the drawbacks when it comes to seashells for landscaping.
Where Can I Buy Crushed Shells for Landscaping?
The best place to consider for landscaping seashells is Tampa Bay Ponds and Rocks! Tampa Bay Ponds & Rocks has been in business since January 2001. We are located five minutes from the beach in the beautiful city of Dunedin, Florida. We are now delighted to serve all of central Florida.
People fall in love with our pond store as soon as they step out of their cars. Some people drive over 150 miles to come to our store!
Our pond store is surrounded by breathtaking landscaping, which features nine beautiful natural-looking ponds with waterfalls, misters, aquatic plants, turtles, koi and goldfish. We proudly claim that it is the most amazing pond and rocks store in Tampa Bay!
Not to mention, we have plenty of seashells for landscaping available. Come visit us and see for yourself.
Create Your Coastal Oasis with Tampa Bay Ponds & Rocks
Seashells are a beautiful and natural way to add charm and natural beauty to your landscape. With a wide selection of types and colors, there's sure to be something that suits your particular tastes. Simply place them on pathways, use them as aquatic plant containers, or create a path using them. You can also use seashells as a replacement for mulch in your landscape.
Are landscaping seashells right for you? If you have a yard or garden and want to add some seashells for decorative purposes, then yes. Landscaping with seashells is an option for you!
Seashells come in many different sizes and shapes, which means that they can be used in all different types of landscaping! When you're ready to transform your yard into a coastal oasis, come visit us at Tampa Bay Ponds & Landscaping for landscaping seashells galore.