Are you looking to create a backyard oasis without spending a ton of money? Do you want to give your property a boost without undertaking a massive overhaul? Lava rocks for landscaping might be exactly what your landscaping needs.
Lava rocks are ideal for adding color, texture, and natural beauty to your landscaping. Lava rocks have a variety of uses in landscaping, from creating walkways to accenting flower beds. They are natural, rugged, and the ideal way to add character to your home and boost your curb appeal.
Homeowners in Tampa choose lava rocks for landscaping because of their easy upkeep requirements. This makes them a great choice for landscapers on a budget and those new to the trade.
If you're considering lava rocks for your landscaping, this guide will provide you with some tips and insight.
What Is Lava Rocks for Landscaping?
Lava rock is an agglomeration of sedimentary material that melts, cools and solidifies. The primary component of lava rocks is lava fragments, which are very small pieces of volcanic rock that have been ground down to the size of sand.
If you're new to the landscaping world, you may wonder what's so great about lava rocks. They come in a variety of colors and have a sponge-like appearance, which makes them an interesting component for landscaping. These landscaping rocks are a favorite for homeowners throughout Tampa, but what exactly are they and how can you use them to improve the look of your home?
Where Do Lava Rocks Come From?
Lava rock comes from the United States, including California, Colorado, Oregon, Texas, and Washington, but you can also find lava rocks from other countries like India, Indonesia, and the Philippines.
The best lava rocks are sourced from the islands of Hawaii, which are known for their beautiful lava rock formations.
How to Use Lava Rocks in Landscaping
Lava rocks look amazing in your landscaping in many ways in landscaping, from creating walkways and paths to adding a pop of color to planters and borders. The possibilities are endless, but some of the most popular ways to use this beautiful stone include:
Pathways – For a natural pathway, look for solid rocks that are large enough to support you and your weight. Lay the rocks out where you want your pathway to lead. Adding moss or soil to the lava rock helps with drainage, which can help prevent roots from getting stuck.
Stone Borders – If you're looking to add color to gardens and walkways, you can use lava rocks to create a natural stone border. Simply spread pieces of lava rock around decks, pools, patios, gardens, or any other areas that need distinction. Lava rocks create a border that's both natural and durable.
Planters – Using lava rocks in a planter makes for an attractive, natural appearance and it also helps with drainage. You can start with small pieces of lava rock or use larger pieces to create a more impressive statement.
Flower beds – Some homeowners choose to put lava rock in place of mulch. It's beautiful, it prevents weeds and erosion and lava rock won't need replacing as frequently as mulch. Lava rocks absorb heat during the day and release it throughout the night to regulate temperature and evaporation. You can use it under shrubs, trees, or other plants to help fill up any empty spaces around your yard that need a decorative element.
Firepits- A firepit makes a beautiful and cozy addition to your backyard retreat and it lets you enjoy the outdoors even on chillier nights. Lava rock works great in a firepit thanks to its superior ability to hold heat. They allow for even heat distribution and exceptional drainage.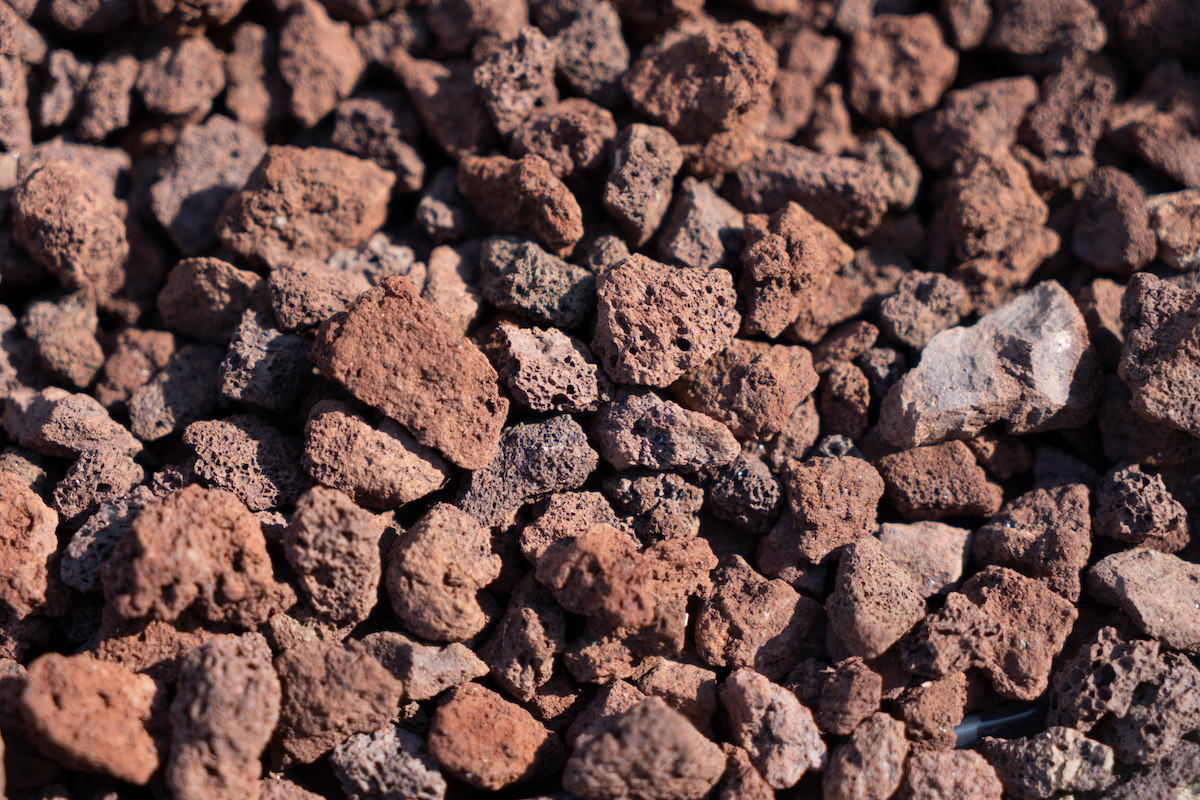 How to Clean Lava Rocks in your Landscaping
As with any outdoor material that is exposed to the elements, lava rocks can become dirty or caked with pollen, mold, or moss.
Luckily, cleaning lava rocks is a breeze. If the lava rocks in your landscaping are looking dirty, spraying them down with a garden hose is usually all you need to make them look brand new again.
If rinsing off your rocks with a hose doesn't cut it, try scrubbing them with a brush or a soapy sponge, or using a dusting method to get rid of any dust, pollen, mold, or bacteria. You can also spray your rocks with a disinfectant or a solution of lemon juice, which will help to eliminate any dirt that is stuck on the rocks. You can also use a pressure sprayer to clean your rocks, which will help to get rid of any dust or pollen that might be stuck to the rocks.
You can also place rocks in a large container of water overnight to sanitize them. To deep clean your rocks, you can use a solution of 1 part bleach to 9 parts water. After cleaning your rocks, you should let them dry completely before placing them back in their landscape beds.
If a quick clean with a garden hose doesn't yield your desired results, you can try the following ideas:
Cleaning Mold from Your Lava Rocks
Is mold growing on your lava rocks? This can be an issue as it can spread to your plants. If you need to clean mold from the rocks, try increasing the sunlight exposure by removing any obstacles that create a shadow on the rocks. You may also way to apply a fungicide while ensuring the area around the rocks is properly drained.
How to Get Rid of Moss on Lava Rocks
If you have moss growing on your lava rocks, this is a moisture issue. Lava rocks are porous, so you may run into moss growth from time to time.
What is the best way to clean moss off of your lava rocks? Try using a chemical moss treatment. You'll need ingredients that include iron sulfate, copper, or ferrous ammonium sulfate. An equal mixture of water and bleach can also do the trick.
Are Lava Locks Right for Your Landscaping Project?
If you want to add beauty to your property, consider using lava rocks in your landscaping. These attractive and natural-looking features can be placed anywhere on your property, from the front walk to the backyard.
The size, shape, and placement of your rocks can create a wide variety of looks to complement your property.
You can choose from various colors, such as red, black, brown, or white, and an assortment of decorative shapes, such as oval, round, or rectangular lava rocks. Choose from a variety of sizes to ensure that your landscaping design will match the size of your property. Regardless of the shape or size that you choose for your landscaping, you can be sure that it will look natural and attractive thanks to the natural look of lava rocks.
Lava rock is one of the most popular options for landscaping, but at $80 to $110 per cubic yard, it's a little more expensive than some other stone options. This expense is offset by its durability and versatility, but it's important to understand the upfront costs when starting a landscaping project.
Get Lava Rocks from Tampa Ponds & Rocks
If you're looking to source your lava rock from a reputable company, Tampa Ponds & Rocks is a local business in Florida that sells a variety of lava rocks in different shapes and sizes. We also offer delivery options, making this a convenient option to enhance your curb appeal for every season.
Lava rocks are ideal for adding color, texture, and natural beauty to your landscaping. If you have questions about lava rocks for landscaping or you want to see them in person, come visit our shop. Our selection of rocks will give you the inspiration to create the landscaping of your dreams.