‍Are you looking for a unique way to spruce up your landscape? Look no further than Mexican beach pebbles. These super smooth pebbles are an eye-popping addition to any landscaping in the Tampa Bay area. Whether you are a homeowner looking to add a touch of elegance to your outdoor space or a professional landscaper looking to give a property a stunning makeover, you'll love the impact of these landscaping rocks. Mexican beach pebbles can be used in a variety of ways to transform your landscape into something truly spectacular.
What are Mexican Beach Pebbles?
A Mexican beach pebble is a smooth and naturally rounded stone. You can find these stones along riverbeds and coastlines in Baja, Mexico. They come in numerous shapes, sizes, and colors and can range from light gray to dark charcoal. You can even find rainbow varieties that pack a punch.
Mexican landscaping stones are made from basalt. This is a multi-color form of volcanic rock that is very popular here in Tampa Bay. These are an environmentally friendly upgrade to your lawn, since they are naturally sourced with a plentiful amount of pebbles available.
The Benefits of Mexican Landscaping Stones 
Why should you choose these landscaping stones for your home? Mexican beach pebbles provide a number of benefits when used in landscaping projects. Their popularity is due to the following:
They are low maintenance, meaning they don't require much upkeep once installed.
These stones are also resistant to fading and cracking, so they won't require frequent replacement like other materials.
The rocks provide a natural look to any landscape.
It's a perfect upgrade to add texture and color to gardens, patios, and walkways.
They can also help retain moisture in the soil and provide drainage for waterlogged areas.
In addition to their aesthetic appeal, Mexican beach pebbles are also a cost-effective way to spruce up any outdoor space.
How to Choose the Right Mexican Pebbles for your Landscape
When choosing Mexican beach stones for your landscape, it's important to consider the size and shape of the stones. It's also important to consider the color of the pebbles, as different colors can create different visual effects.
You should also consider the area in which you will be placing the pebbles. If you're placing them in an area that receives a lot of foot traffic, you'll want to select larger, thicker stones to ensure they can withstand the wear and tear. For areas with less foot traffic, smaller stones can be used.
Lastly, you should consider the overall look and feel of your landscape. Mexican beach pebbles can be used to create a variety of looks, from rustic to modern, so it's important to select pebbles that will complement the overall design.
Colors, Shapes, & Sizes: What to Consider
Mexican landscaping pebbles come in a variety of shapes and sizes, so you're sure to find the perfect pebbles to fit your project. Common sizes range from small pebbles that are approximately 0.5" in diameter to large pebbles that are up to 1.5" in diameter. The most popular shapes include round, oval, and flat.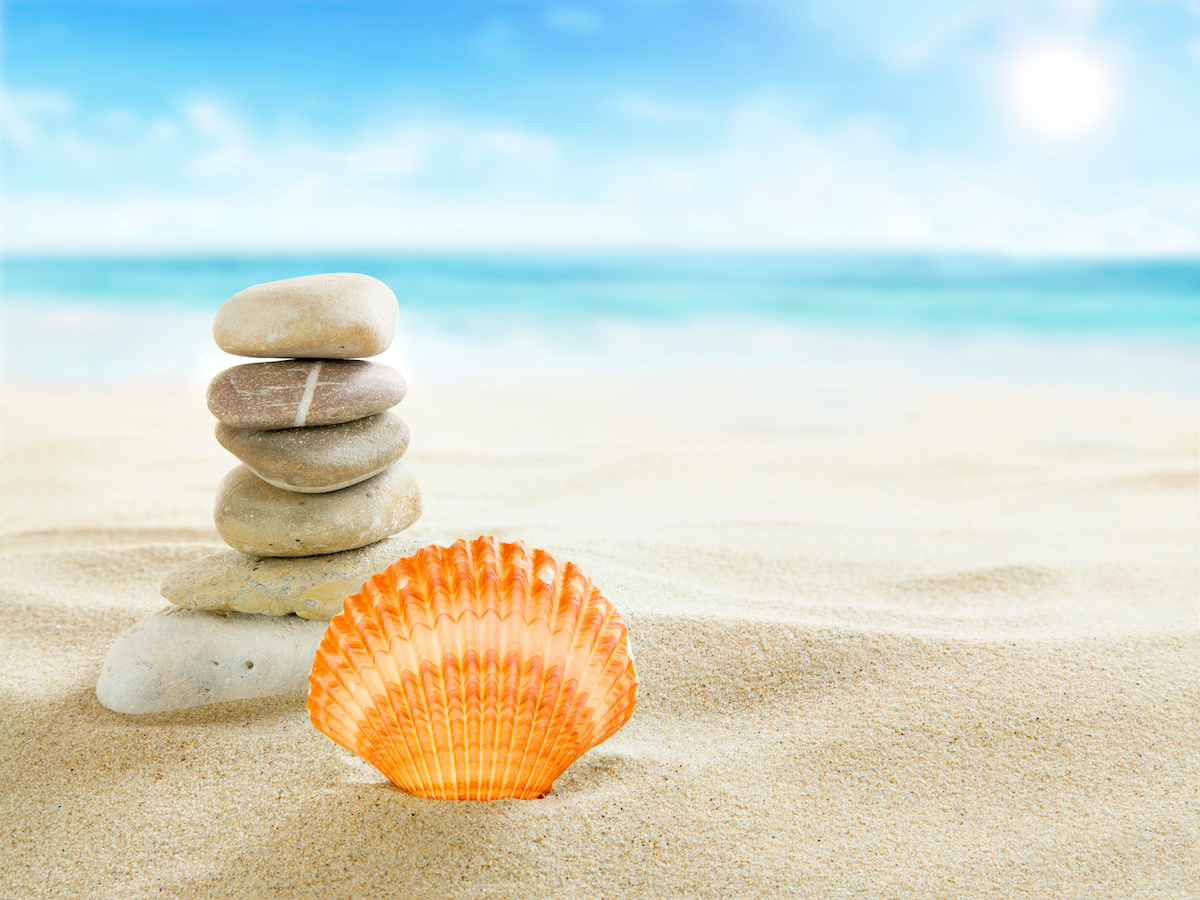 How to Clean Mexican Beach Pebbles
Just like anything else that has constant exposure to the elements, mexican pebbles can get dirty. But what is the best way to clean them?
Consider the following advice:
Grab your garden hose and spray them down, which allows you to remove any dirt that cakes on over time
Tumble polishing can also help clean beach pebbles. However, be mindful to the size and fragility of the pebbles so they do not break or crumble while polishing
Use a push broom when the rocks are wet to help remove any debris
Proceed with caution if you decide to use dish soap to clean the rocks. This can cause damage to the pebbles
Popular Mexican Beach Pebble Projects
These beautiful stones can be used in a variety of landscaping projects, from small to large. One popular project is a dry riverbed, which can be created with pebbles of various sizes and shapes.
Another popular use for Mexican beach pebbles is as a ground cover. Pebbles of various shapes and sizes can be used to cover large areas of land and add texture and color to the landscape. This adds a great amount of visual interest that brings new life to your landscaping
Mexican beach pebbles can also be used to create stunning water features such as ponds, fountains, and waterfalls. The natural colors and shapes of the pebbles will add a unique and beautiful element to any water feature. You can create a border with the pebbles around your water feature or randomly scatter them. There is nearly no wrong way to display your pebbles!
Other ways you can use the pebbles include:
Stone borders – Mexican landscaping stones are not large. However, they can make an interesting visual border for flowerbeds and walkways.
Planters – Need pizzazz for your outdoor planters? Consider Mexican landscaping rocks. Choose the rainbow variety for a bigger impact.
Pools – Placing these pebbles around your pool is a great use for this type of rock. This is because their smooth surface offers a pain-free way to walk to and from the pool. These are one of the dew rocks that provide this experience!
Zen Garden – Looking for a special retreat right in your own backyard? Bring in Mexican beach pebbles for a serene outdoor experience.
Find Mexican Landscaping Stones at Tampa Bay Ponds & Rocks
To recap, Mexican beach pebbles can be used in a variety of ways to create a unique and stunning landscape. They can be used to line pathways and walkways, create edging around flowerbeds, and create stunning water features.
They can also be used to create seating and gathering areas, add texture to walls and fences, and even create outdoor sculptures and artwork. The possibilities are endless when it comes to using Mexican landscaping stones.
Mexican beach pebbles can be used in a variety of ways to transform any landscape into something truly stunning. Whether you're looking to add a touch of elegance to your outdoor space or give a property a complete makeover, Mexican beach pebbles can help you achieve the look you're after.
Visit us at Tampa Bay Ponds & Rocks for Mexican beach pebbles. We have a wide selection of pebbles in various shapes, sizes, and colors, so you're sure to find the perfect pebbles for your project. Reach out to us today and let us help you create a stunning landscape you'll love for years to come.