Do you have an outdoor space that is begging for some fresh, colorful pizazz? Is the neutral backdrop of your home dull and drab? Are you tired of the same old, boring greenery? If so, you're in luck! You can find tons of river rock landscaping ideas to dazzle your outdoor space. River rocks in landscaping is an excellent option for overhauling the look of your yard.
There are plenty of gorgeous, low-maintenance landscape ideas out there that will give your space a major makeover. This article lists some of the best river rock landscaping ideas to help you revitalize your outdoor space.
What are River Rocks in Landscaping?
River rocks are rocks that occur naturally along rivers and streams. These sedimentary rocks are abundant in color and texture, and they are a popular pick for enhancing the appearance of your home's exterior. They come in many shapes and sizes, and they make excellent landscaping materials.
These gorgeous rocks are formed in rivers with fast-moving streams where they are smoothed and eroded. The speed of the river smooths out the rocks' jagged edges, turning them into a smooth and stylish product of nature that you can use for landscaping. They can be used as pathways, walkways, steps, borders, and more.
What do River Rocks Look Like?
River rocks come in a wide variety of colors, shapes, and sizes. You can find round, square, or irregular rocks ranging from the size of a fingertip to some that are as big as your hand.
River rocks come in different textures such as smooth, veined, or uneven. They can be found in an assortment of different colors such as white, black, red, and yellow. Some river rocks even have designs such as crosses, hearts, or words etched on them.
Most river rocks are made from igneous or metamorphic rock, although some are made from softer sedimentary rock.
River rocks are quite inexpensive and can be found at your local landscaping company, such as Tampa Bay Ponds & Rocks.
Plan Your River Rock Landscaping
Are you ready to use river rocks in your landscaping? When you are creating a landscape, it's important to keep in mind the overall appearance of your space. Here are a few things to remember when planning your river rock landscaping:
Determine your budget – Like any landscaping project, you'll need to decide on a budget for your river rocks. You can start with the cost of materials and work backward to determine how much you'll need to budget for the project. You can also talk to a landscaper or other contractor to get an idea of the cost of the project.
Choose a Color Palette – One of the best things you can do to add color to your space is choose a gorgeous color palette for your landscaping. You can choose any color you like but look for a color palette that goes well with your existing décor.
Decide where you want to place your river rocks There are many different ways you can arrange the stones to suit your home's aesthetics. For example, you can place your rock walls next to your front door to add a little color to your entrance.
Add Color to Your Landscaping with River Rocks
One popular landscaping idea is to use river rocks to add a little color to a neutral space, such as a driveway or patio. These rocks come in many different colors and textures, so you can choose ones that complement your space.
You can also add decorative rocks to your fence or walls to add a pop of color. Every space can use a splash of color, and decorative river rocks are an inexpensive way to create a colorful accent.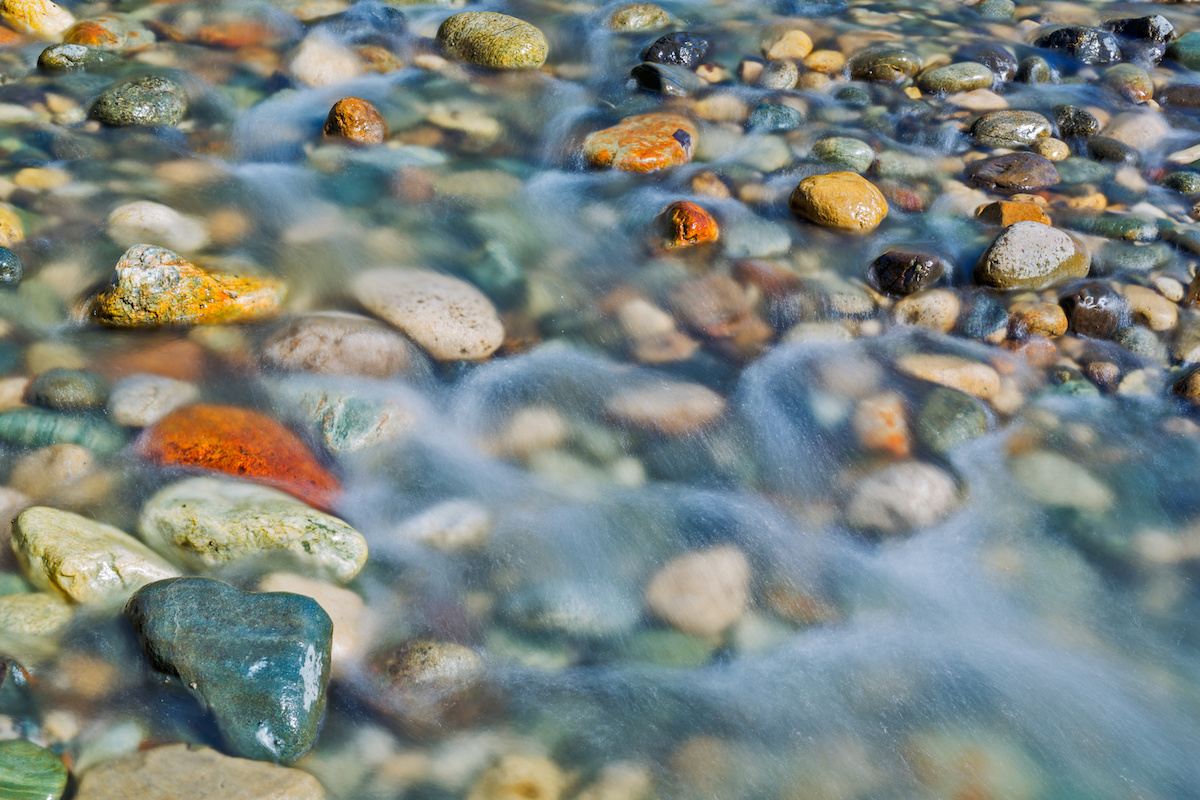 Use River Rocks in Walkways and Driveways
If you love the look of river rocks, you're going to love this next landscaping idea: you can use them as a walkway.
Soft, smooth river rocks are gentle on your feet and easy to walk on so they make a great backyard pathway. Choose river rocks with vibrant colors to bring an eye-popping appearance or select rocks that blend well with your space for a natural look. There are no hard and fast rules when creating walkways with river rocks. This is your chance to show off your style in this unique landscaping project.
River rock also makes a great driveway because it's strong enough for heavy use and it allows water to drain into the ground below. It's also simple enough to install yourself, which can save you a bundle.
Create a Decorative Border
Lots of people use bricks or flowers to create a decorative border, but river rocks make a beautiful and unique border for your space. River rocks make excellent landscaping borders because they are low-maintenance, inexpensive, and attractive.
You can place them in a decorative border around your patio, pool, garden, or along walkways.
The vast array of colors makes it easy to customize your landscaping. Red rocks, for example, are a beautiful addition to any landscaping border. They draw the eye to the border while highlighting the interesting elements of your outdoor space.
Make a Beautiful Rock Garden with River Rocks
A rock garden is an excellent way to transform your backyard into a relaxing retreat. Choose different types of rocks for your rock garden and enjoy the natural beauty of your backyard. If you want to add some color to your backyard, choose river rocks in an assortment of colors.
You can further enhance your river rock garden with stepping stones, benches, and other garden furniture. Keep in mind that if you have a slope in your yard, you will want to be sure your garden furniture is the appropriate height. A river rock walkway will give your garden a nice, relaxing vibe.
Where should you put a river rock garden? River rock is extremely durable and can be placed almost anywhere. It can be placed on the patio, balcony, near the pool, or used as a focal point in your front yard landscaping
While river rocks are ideal for rock gardens, you can also use different types of stones to create a more dramatic look. For example, you can place cobblestones on one side and shingle stones on the other.
This will create a contrasting look that will help your space stand out. Remember that the most important part of creating a dramatic landscape is choosing a different type of stone for each space.
Aide Drainage and Prevent Erosion
River rock isn't just for decoration, it can also be a useful addition to your yard.
Wind and rain can erode the topsoil in your garden reducing its ability to absorb water and exposing the ugly dirt underneath. A layer of river rock in your flower beds can hold dirt and plants in place without sacrificing drainage.
Layer river rock on steep grades to prevent dirt runoff and erosion and help your yard maintain its shape.
A bed of river rock is perfect under backyard playsets. It's smooth enough for tiny feet to walk on but it also prevents puddles from forming after rain.
River rock can also be used under your gutter drainage pipes to stop water from pooling. Build the rocks into a small channel to help divert running water away from the foundation of your home.
River rock blends seamlessly into your landscaping so it never looks out of place even when it's working hard for your lawn.
Why Should You Consider River Rocks for Landscaping?
River rocks are an inexpensive, easy-to-use landscaping material that comes in a variety of colors and textures. They can be used for walkways, walls, and more. They're low maintenance, versatile, and great for drainage.
Once you have your space transformed into a lush, colorful landscape, you can use river rocks as decorative elements. They're affordable, easy to use, and they create a variety of different looks.
If you want to create an impressive landscape in your yard using river rocks Tampa Bay Ponds & Rocks is the go-to source for all kinds of landscaping rocks. We're the experts at transforming your landscaping in the most exciting ways possible. Stop by our store to learn more or contact us with questions on river rock pricing and more.