There are many different ways to make your home stand out from the rest. While some people choose to renovate their kitchen or add an extension, others prefer to take a more natural approach when it comes to improving their property. This is where landscaping ideas can completely overhaul your home!
Instead of spending a fortune on renovations and additions, you can instead work with nature to create an amazing outdoor space. It will be sure to wow anyone who sees it!
One of the best ways you can do this is by trying different landscaping ideas for your front yard. In this blog post, we will go through some of the most popular landscaping ideas. This is including the use of landscaping rocks.
We will also offer some helpful tips on how you can use them in your own home. Read on for more information and inspiration!
Use Landscaping Rocks
One of the most inexpensive yet effective front yard landscaping ideas is using rocks as a natural border. You can use them to frame your walkways, pathways, and flower beds, or to act as a divider between different areas in your yard. If you want to go for a more organized look, you can use smaller rocks to create straight lines and geometric shapes. If you want a more natural look, try using larger rocks that are placed more irregularly.
When you want to create an interesting pattern with your rocks, lay them out on the ground first to see how they fit together. You can then transfer the pattern and move the rocks into place once you're happy with it. Some people create patterns with rocks in formations of flowers, sunbursts, and more. Rocks are a great way to add visual interest and texture to your front yard. They also help prevent soil erosion.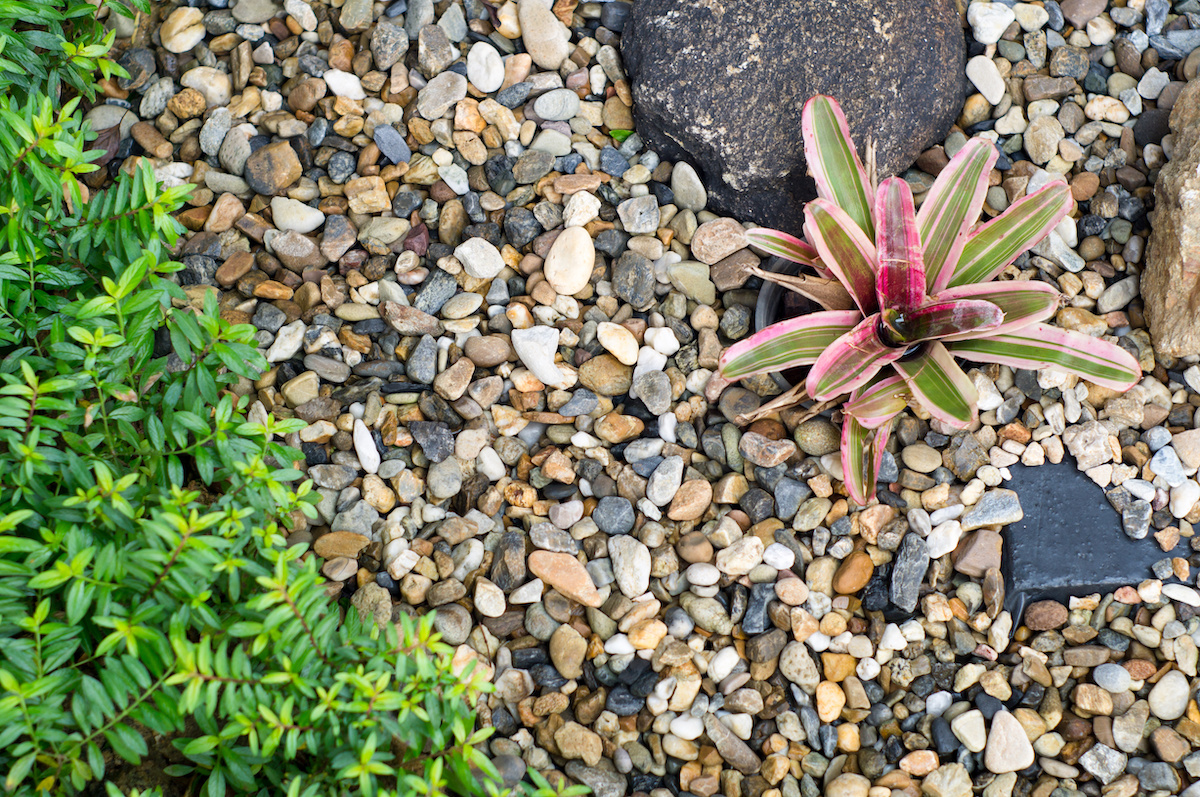 Install a Water Feature
Another great way to add interest and ambiance to your front yard is by installing a water feature. There are many different types of water features to choose from, including fountains, ponds, streams, and more.
Fountains are a great choice if you have a smaller space since they can be relatively small. For larger areas, a stream or pond might be a better fit. You can install a water feature in any part of your front yard. Whether you place it at the center or along an edge, it will draw a lot of attention and put on a beautiful show for all to see.
If you want to create a more dramatic feel, you can install lights in and around your water feature. This will create a stunning display that your guests will absolutely love.
A small water feature can make a big impact when placed in the right setting. It's ideal for adding style, beauty, and tranquility to any yard. Thanks to their low maintenance requirements and a wide variety of designs, small water features are a great choice for those looking for a way to improve their yard's aesthetic value without having to invest a lot of time or money.
Create Paths and Borders with Flowering Shrubs
Another great way to add color and texture to your front yard is by planting flowering shrubs. You can create organized paths and borders with these plants, or simply scatter them randomly throughout your yard for a more natural and organic feel.
To create an even more dramatic effect, you can choose flowering shrubs that have a variety of colors. This will ensure that your yard stays beautiful throughout the year and provide a stunning display no matter what season it is.
You can also create paths and borders with landscaping rocks. These are available in different sizes, shapes, and colors. You can choose the one that best suits your design and tastes. The landscaping rocks help make your landscaping look neat and tidy.
Adding Color With Flowers
Looking for a pop of color in your front yard? You can easily add color to your front yard by planting flowers. Create large intricate flowerbeds or simply add a few blooms for a more casual look. Flowers are easy to care for and affordable. So, they are a great choice for anyone who doesn't have a lot of experience with gardening.
Some of the most colorful flowers to consider for your front yard include red tulips, daffodils, and roses. You can also try lavender, purple, and pink hydrangeas along with peonies, and pink or red spider mums. You can grow these from seed or bulb in the yard. You can also purchase them at your local nursery or garden center.
Landscaping rocks can be added to potted plants and garden flower beds to help drain water, prevent erosion and fight against weeds. They look beautiful, too!
A Walkway Is a Must
Another important part of your front yard landscaping ideas is the walkway. This path will separate different areas of your yard and give your guests a place to walk. This can be especially useful if you have a large property or would like to divide your front yard into different sections. When choosing a path material, you have a few different options. You can use pea gravel, stone, or pavers depending on your personal preference.
If you choose pea gravel, you can either leave it plain or add colored stones for a bolder look. You can also add some interest and create a design with gravel if you are so inclined. While walkways don't have to be overly fancy, they should be functional. You should consider things like foot traffic, drainage, and your home's architectural style when choosing a walkway material.
Add Some Vertical Elements
Another great way to liven up your front yard is by adding vertical elements. You can do this by creating a stone wall or planting climbing vines on your fence. Vines add a lush and natural feel to your yard. They're a good choice if you want to add some color and interest while also helping to cut back on your gardening costs.
Select plants that are easy to care for and don't require a lot of maintenance. You can also try alternating between different types of vines to add some variety to your yard. You can also add a pergola or arbor to your yard to create a more visual impact. By adding vines to these structures, you can create a very dramatic and interesting look that is sure to wow all of your guests!
Need some vertical plant ideas? Take a look at this blog for some of the best vertical plants.
Landscaping Ideas: Transform Your Front Yard with Tampa Bay Ponds & Rocks
These landscaping ideas are a great way to improve any property. With so many options available, there is sure to be something that will work for you and your yard.
From adding bold colors to installing a water feature, there are many different ways to make your home stand out. Your front yard is the first thing that people will see when they come to visit you, so it is important to represent your taste and style.
Are you ready to give your yard an entirely new look? Come visit us at Tampa Bay Ponds & Rocks. We offer plenty of options for landscaping rocks as well as water features and more.