Landscaping rocks are an inexpensive way to add character and interest to your yard or garden and they also serve as a natural filter for rain runoff. If you want to use landscaping rocks in your landscape, there are many different options to choose from. The type of rock you use will depend on what look you're going for and how much money you want to spend. Many times, homeowners come to us asking about the cheapest landscaping rocks available.
If you're looking for a quick backyard makeover that won't break the bank, you may be wondering, "What are the cheapest landscaping rocks?" Luckily, there are several inexpensive options that won't sacrifice beauty.
Crushed concrete, resin pieces, or river stones are all great options for the budget-conscious homeowner. River stones are one of the cheapest landscaping rocks you can buy, you can often find them for only a couple of dollars per pound. Many of them come polished, so they don't need to be sanded and they can be used in many different ways such as lining walkways or filling flower beds. River stones are very versatile and can be used to create many different looks.
While these landscaping rocks are cheap, they are not the most inexpensive options that you can find. In fact, the cheapest landscaping rock is pea gravel!
Below, we'll explore everything you need to know about pea gravel, including how to best use it in your landscaping.
What are the Cheapest Landscaping Rocks?
Landscaping rocks can be naturally occurring or made from recycled materials. Naturally occurring rocks, such as sandstone or granite, are relatively cheap. But they're not good for lining ponds or covering large areas as they're heavy and don't offer any drainage.
The most inexpensive landscaping rocks are made from recycled materials, such as concrete or asphalt. While these will be the cheapest option, they won't look as natural as other landscaping rocks. Concrete is made from cement, sand, gravel, and water. It's commonly used for sidewalks, driveways, and patios.
Concrete is a great option for edging your garden or outlining your walkway. Concrete is also often used as a base for retaining walls. These are walls that are built to help control water flow on sloped properties. Retaining walls are often built with concrete to support the soil on either side of the wall. Asphalt is a byproduct of the oil and gas industries. It's also a common material for creating driveways and walkways. Like concrete, asphalt is made from recycled materials and is a good option for edging.
But what are the cheapest landscaping rocks? The cheapest landscaping rock available is pea gravel. This is a versatile landscaping rock that looks great for many types of landscaping, including driveways.
So now we know that pea gravel is the cheapest landscaping rock, but exactly how much does it cost?
How much does Pea Gravel Cost?
Pea gravel is made from river rock that is smoothed and rounded. It's the perfect landscaping rock for edging and around ponds and is also a popular material for driveways, walkways, and playgrounds.
Pea gravel comes in several sizes, ranging from fine gravel which is approximately ⅛" to ⅜" (about the size of a pea) up to coarse gravel which can be up three inches in diameter.
Fine gravel is best to use around ponds and walkways while coarse gravel is best for covering large areas like driveways. You can expect topay up to $50 per ton for smaller-sized gravels, if you use coarse gravel, the price will be slightly higher.
How to Use Pea Gravel in Landscaping
Pea gravel is very versatile and can be used in many different areas of your yard. You can use it to edge your garden beds, pathway ways, or around your water features. Pea gravel is also commonly used in children's playgrounds because of its softness. To use this landscaping rock, you'll need to first create a border or pathway.
For garden beds, dig a one-foot-deep trench and line it with landscape fabric. Place the fabric on the bottom of the trench so it lines both sides. Fill the trench with gravel, leaving about one inch between the top of the gravel and the soil. For pathways, dig a trench along the intended path. Line the trench with landscape fabric and fill it with gravel. Use a rake to push the gravel down and remove any large clumps.
Pea Gravel Pros and Cons
Pea gravel is a great option for edging and around ponds. It's also a great choice for pathways and playgrounds. But of course, nothing is perfect, so let's explore the pros and cons of this versatile landscaping rock.
Pros:
Pea gravel is inexpensive- as we've mentioned, it's the cheapest landscaping stone you can buy!
It's easy to find- Pea gravel is very common, so it's accessible and can be purchased at most home improvement stores.
Pea gravel is soft and relatively smooth- It won't damage your shoes like other types of landscaping rocks and it's smooth enough to walk on with bare feet and use under playground equipment.
It's easy to clean and maintain- You can simply use a garden rake to clean the gravel or a leaf blower to remove leaves and other debris.
Cons:
Pea gravel won't last forever- It can be washed away by heavy rains and will eventually deteriorate over time, so expect to top off your gravel supply every few years.
It works best on even, level ground- Because pea gravel is soft, it won't hold up well on uneven ground.
It's not great for gardening- it can be difficult to plant flowers or gardens in pea gravel.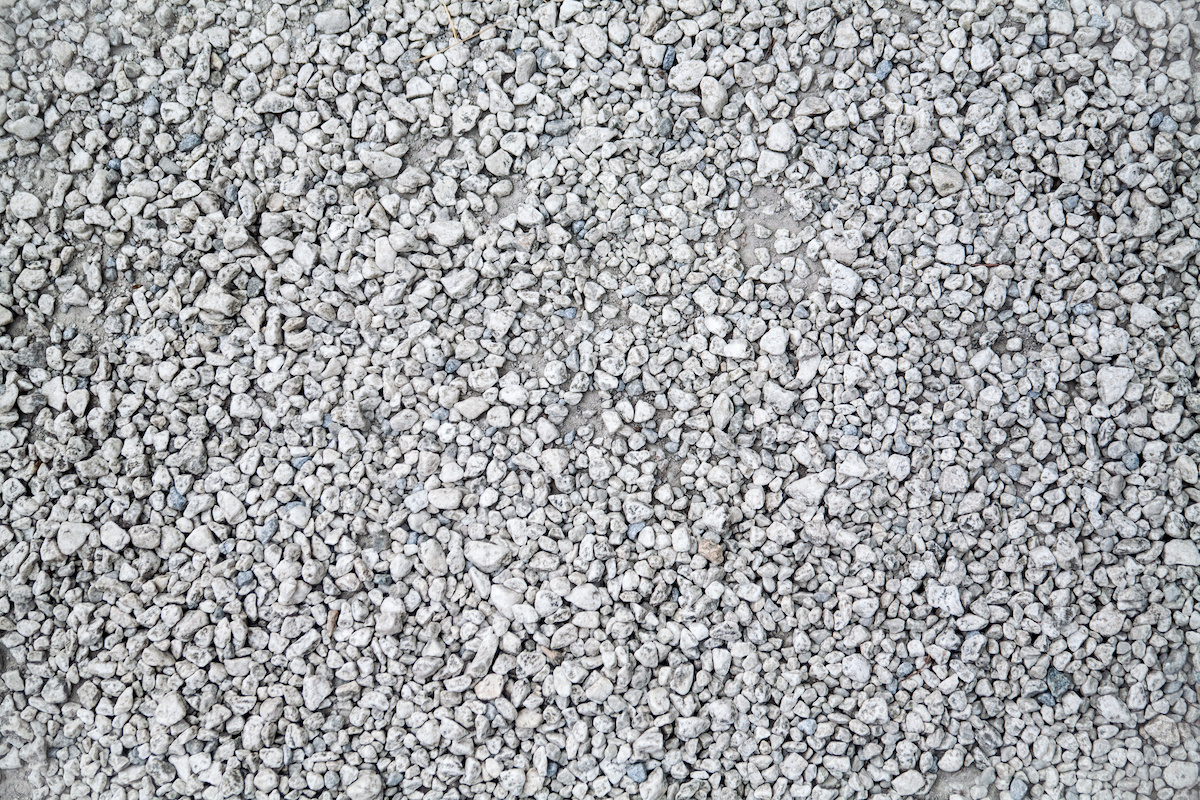 What is the Difference Between Gravel and Pea Gravel?
Gravel and pea gravel are both types of landscaping rocks. Gravel is any rock that is larger than sand and smaller than boulders. Pea gravel is a specific type of gravel that isroughly 3/4 inches in diameter. Gravel is great for driveways, but it's not good for edging. It's not soft enough to be easily walked on, and it's not good for retaining water.
Pea gravel is softer and able to hold back water. Gravel is also much larger than pea gravel. It's between two and six inches in diameter. Pea gravel is less than three inches in diameter.
Can You Use Pea Gravel in Driveways?
Yes! Pea gravel is commonly used in driveways. It's softer and less abrasive than other types of landscaping rocks. This type of landscaping rock offers less traction than other hard landscaping materials, such as asphalt so it's not recommended for areas that get a lot of foot traffic, such as grocery store parking lots. Pea gravel is best for residential areas where drivers are expected to drive slowly.
Is Pea Gravel Cheaper than Asphalt Paving?
Pea gravel gives you a beautiful and functional driveway without the high price tag. Using asphalt for your drivewaycan cost you over $6,000. You'll also have to pay extra for maintenance and repairs as asphalt has to be re-sealed every few years.
Gravel doesn't need to be replaced or repaired as often, and it's much cheaper than asphalt paving. Using pea gravel for your driveway is a great way to save money without sacrificing the look of your property.
Buy Pea Gravel from Tampa Bay Ponds & Rocks
Tampa Bay Ponds & Rocks is a local landscaping company that offers a wide selection of landscaping rocks, including pea gravel.
Our company was built on a passion for nature, and they strive to deliver the best service and products. All of their products are environmentally friendly and come in many different shapes, styles, and options to complement your home.
Tampa Bay Ponds & Rocks specialize in water features, ponds, and outdoor living spaces so their experts can help you design an outdoor space that's perfect for your family.
Best of all, they deliver to the Tampa Bay area, so you can focus on your landscaping project without worrying about the logistics of how to get your materials home.
Browse our selection of landscaping rocks to start designing your dream outdoor space today.