Landscaping rocks are a must-have accessory for gardeners. They're ideal to add natural appeal and beauty to their outdoor space. You can use landscaping rocks in a number of ways. This includes using them as walkways or accents for your yard. However, there are so many different types of rocks out there that it can feel overwhelming. How can you decide on the best rocks for landscaping?
There are many factors that go into deciding on the best rocks for landscaping. This includes appearance, availability, cost, and other considerations. With all this in mind, read on to discover more about some of the best rocks for landscaping. We are also offering some tips on how you can use them most effectively.
What to Look for When Selecting Rocks
While many types of rocks can be fantastic for landscaping, you want to be sure to choose those that are both beautiful and durable. When selecting your landscaping rocks, look for the following:
Landscaping rocks that are thick with a consistent texture and color.
Be sure that they are free from defects such as holes or thin areas that might make them more likely to break.
You'll also want to consider how you plan on using your rocks. For example, if you plan on using them in a flower bed, you'll want to select small rocks so that you can easily work with them.
On the other hand, if you plan on using them as a statement, a larger rock might be more appropriate.
If you need help selecting the landscaping rocks, contact Tampa Bay Ponds & Rocks for help.
Now that you know what to look for in landscaping rocks, let's take a look at some of the best rocks to use.
Limestone Rocks
If you're looking for a rock that is both beautiful and durable, limestone is a great option. Limestone rocks are sedimentary rocks that forms over long periods of time through the process of chemical precipitation of calcium carbonate.
Limestone is frequently used in construction since it can be easily quarried and shaped. It has a high resistance to water and a tendency to form small holes when it is submerged. This means that limestone is an ideal landscaping rock. Because of the special characteristics of limestone, it is best used in combination with other landscaping rock types.
How to Use Limestone Rocks in Landscaping
Limestone is a popular landscaping stone due to its variety of uses and appearance. This type of rock is easy to work with and you can use it for a variety of purposes. Homeowners use it for pathways, steps, and seating walls. Choosing the right limestone for your landscape project is important. Tampa Bay Ponds & Rocks can help you select the correct type of limestone rock for your project.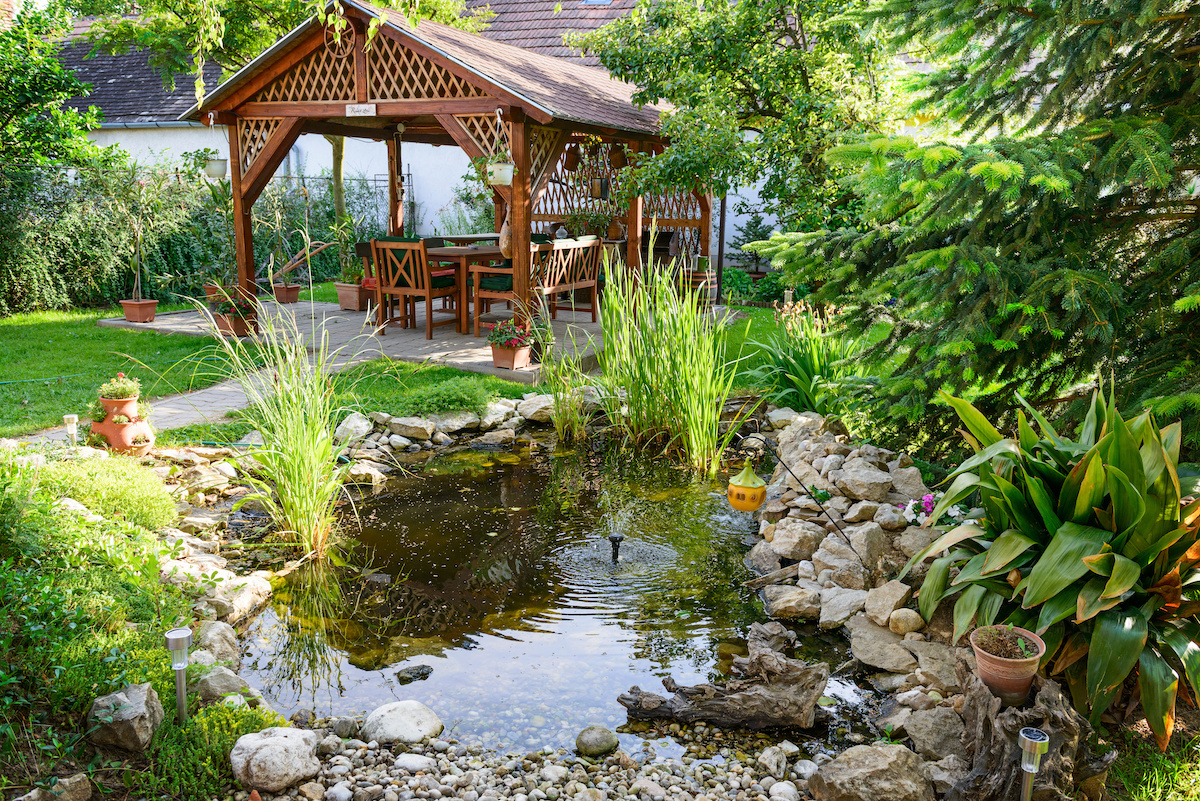 River Rocks in Landscaping
River rocks are great for a variety of landscaping projects. People use them for reasons including flower beds, garden paths, and outdoor fireplaces. They can also be used as a foundation for a patio or walkway.
These landscaping rocks are popular because they are available in a range of shapes, sizes, and colors. There's something for everyone when it comes to river rocks! Most river rocks are dark grey or black, but some are also available in red, brown, and tan.
Meanwhile, river rocks are often smooth. However, some can have a rough texture. This is sometimes beneficial in certain landscaping projects. River rocks are generally easier to work with than other types of rocks, as they are often smaller than other rocks and easier to lift. They are often available in bulk if you need to buy large quantities.
Choosing the right type of river rock for your landscaping project is important. Darker rocks often have darker minerals that can stain surfaces. You may want to consider this when choosing a rock. You can also want to look for rocks that have been treated to prevent staining.
Where to Buy River Landscaping Rocks Near Me
Are you wondering where you can buy river rocks? You can purchase river rocks at any home improvement store. Some stores may sell them in bulk, which can save you money. You can also purchase river rocks online.
Tampa Bay Ponds & Rocks is the go-to source for these landscaping rocks. Be sure to stop by our store to find river rocks galore!
Glass Landscaping Rocks
Choosing the right landscaping materials is an important decision as they will be around your home for years to come. One option that you may not have considered is glass landscaping rocks. They are a great option if you want a unique look for your landscaping.
What are glass landscaping rocks? Glass landscaping rocks are small rocks that are made from glass. They are a great option if you want a unique look for your landscaping.
What are the benefits of using glass landscaping rocks? They are a great way to add some character to your landscaping. You can choose from a wide range of colors. You can also scatter them throughout flower beds or pathways to a special sparkle. There are nearly limitless options when it comes to using glass rocks.
Pebbles as Landscaping Rocks
Pebbles have various uses such as in gardens or as a landscaping material. You can use pebbles to create walkways, borders, or fill in flower beds. Pebbles are great for filling in potted plants and gardens as they come in various sizes. Meanwhile, pebbles are also a great way to add texture and interest to a garden. You can use them as mulch or in a rock garden.
Since they come in a range of colors, you can also use them to add interest to your landscaping. Plants that grow well in pebbles include succulents, orchids and bulb plants. You can experiment with other plants to see if they grow well in pebbles.
Mexican Beach Pebbles
Mexican beach pebbles are growing in popularity in the last several years. These beautiful stones are useful for landscaping, decorating, and even for aquatic purposes. You can also find them in many colors, allowing you to find one that best suits your tastes. These are beautiful and sought-after landscaping rocks here in Tampa Bay.
Meanwhile, Mexican beach pebbles are easy to find and purchase, especially when you visit us at Tampa Bay Ponds & Rocks.
Get Landscaping Rocks at Tampa Bay Ponds & Rocks
The right landscape rocks make all the difference. From walkways and foundations to accents and rock walls, landscaping rocks can provide the right touch to any landscape or garden.
No matter what your project is, there is a perfect landscaping rock for you. And when you buy landscaping rocks from Tampa Bay Ponds & Rocks, you'll instantly add pizzazz to your property. To learn more about our landscaping rocks, stop by our store or give us a call.